Ocean Garden's History
Throughout its history, Ocean Garden's has built its reputation on the premium quality of its seafood products.  In addition, these quality standards serve as a benchmark for the seafood industry. Ocean Garden packs shrimp under international standards for food safety. All processing plants follow stringent specifications that exceed the requirements of the FDA, USDC, and other standards.
Sustainability
Above all, Ocean Garden focuses in sustainability.  The wild and farm raised shrimp industry is highly regulated and managed for the long term.  This is why Ocean Garden is in cooperation with NGOs and Mexican shrimp fishermen to promote long term sustainability and socioeconomic balance in Mexico.
Sustainability is achieved as Ocean Garden ensures its shrimp is traceable from the end-user back to the processing plant.  We have a FIP (Fishery Improvement Project) with trawlers that was recently announced by SFP (Sustainable Fisheries Partnership) to gain MSC (Marine Stewardship Council) certification.
Measuring Guide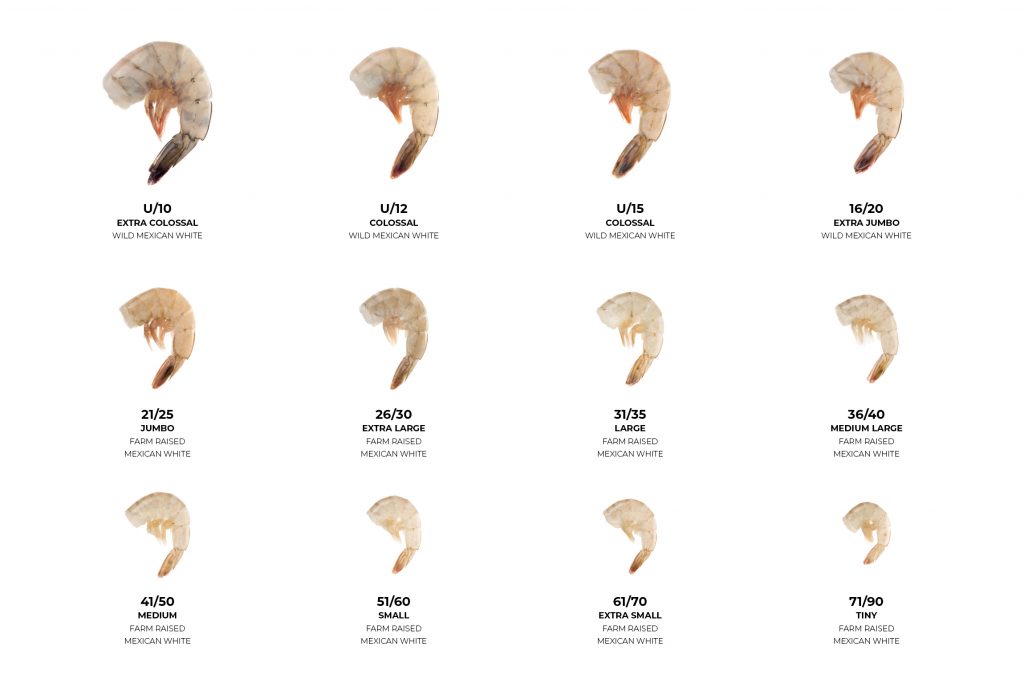 Shrimp Nutrition
Shrimp is the most popular seafood in the United States and a healthy and delicious part of a well-balanced diet!  For instance, research shows that the high percentage of polyunsaturated fat, "good fats", in shrimp actually helps to reduce blood cholesterol.
Additional benefits of shrimp include:
Low in fat
Low in calories
No saturated fat
Excellent source of lean protein.
Contains cardio-protective omega-3 fatty acids, vitamin B12 and niacin.
High in minerals, supplying iron, zinc and copper.
Thawing
The recommended shrimp thawing method is to thaw in the refrigerator – a 5 lb. block of shrimp will take 24-48 hours to thaw. For quicker thawing, place shrimp under cold running water being careful to never leave shrimp in standing water as it will lose color, flavor, and nutrients.
Storing
A block of frozen shrimp will keep up to 18 months at 0°F or colder. Keep thawed or cooked shrimp in a closed container, away from direct contact with ice for up 2-3 days at 30°-35°F . Do not refreeze.
Cooking
The biggest quality problem for shrimp is overcooking! Here are correct approximate cooking times:
Large Shrimp (U/10-16/20) – 3 1/2 – 4 minutes
Medium Shrimp (21/25-41/50) – 2 1/2 – 3 minutes
Small Shrimp (51/60 and smaller) – 1 1/2 – 2 minutes
For recipe ideas visit us at: https://oceangarden.com/recipes/